Mozilla Firefox, Portable Edition 3.6.3 Released | PortableApps.com - Portable software for USB drives
Mozilla Firefox, Portable Edition 3.6.3 Released

PortableApps.com is proud to announce the release of Mozilla Firefox®, Portable Edition 3.6.3 in 16 languages. It's the latest Mozilla Firefox browser bundled with a PortableApps.com launcher as a portable app, so you can take your browser, bookmarks, settings and extensions on the go. This release updates Firefox to the current version. It's available in Chinese (Simplified and Traditional), Dutch, English, French, German, Hungarian, Italian, Japanese, Korean, Polish, Portuguese (Portugal and Brazil), Russian and Spanish (Spain and International). It's packaged in PortableApps.com Format so it can easily integrate with the PortableApps.com Suite. And, as always, it's open source and completely free.
Mozilla®, Firefox® and the Firefox logo are registered trademarks of the Mozilla Foundation and are used under license.
Features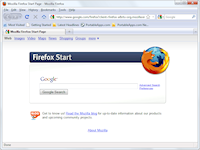 Mozilla Firefox is a fast, full-featured web browser that's easy to use. It has lots of great features including popup-blocking, tabbed-browsing, integrated search, improved privacy features, automatic updating and more. Plus, thanks to the PortableApps.com launcher bundled in the Mozilla Firefox, Portable Edition, it leaves no personal information behind on the machine you run it on, so you can take your favorite browser along with all your favorite bookmarks and extensions with you wherever you go.